Oceans contain higher and higher concentrations of plastics and debris. With over 270 000 tons of plastics in the oceans[1] a message in the bottle will be hard to find. Marine pollution is growing. Till 2050 there will be more plastic in the oceans than fish, a study stated recently[2]. Plastic is floating, the debris is forming gigantic assemblages; nightmares of consumption. Here it is: the "away" of throwing something "away"[3] To counsel these assemblages and hear their "excruciating complexity and intractability"[4] and to see them as "an open-ended collective" is the aim of this ethnographical research.
The increasing plastic pollution of oceans and water systems relates people and things on a global, biochemical, ecological, political and social level. The project examines the oceans as a specific thingspace and raises questions about social and ecological justice and investigates the possibilities and utopias of purification. How do materialities and knowledge circulate through various scales –from nature-culture interfaces on a molecular level to global environmental policy?
Plastic is understood as epistemic object that challenges the entities "nature" and "culture": The debris is alive. Microorganisms live on its smallest particles. Invasive species travel on it. Colonization through algae creates artificial biotopes, so called "Plastispheres"[5]. It is literally a maritime movement. It floats in endless circles on the oceans surfaces, following the drift currents and the ocean conveyor belt. It absorbs chemicals from and releases chemicals in the surrounding water. It explores the depths and sinks to the abyssal plains and ocean beds, only a small portion gets washed up on the beaches.[6] On its journey the debris is getting finer and finer. Plastic breaks down to smaller polymers and finer particles, until it is no longer visible to the human eye. Zooplankton mistakes the small particles for photoplankton and eats it. And it has lot to feed on: In the north Pacific Central gyre there are six times more microplastic particles per gallon water then zooplankton.[7] The plastic migrates up the food chain. Microplastic particles can be found in mussel and fish tissue. First studies show its reproductive impacts and other health effects. It is poisoning, toxic and dangerous and it recurs in human networks and bodies.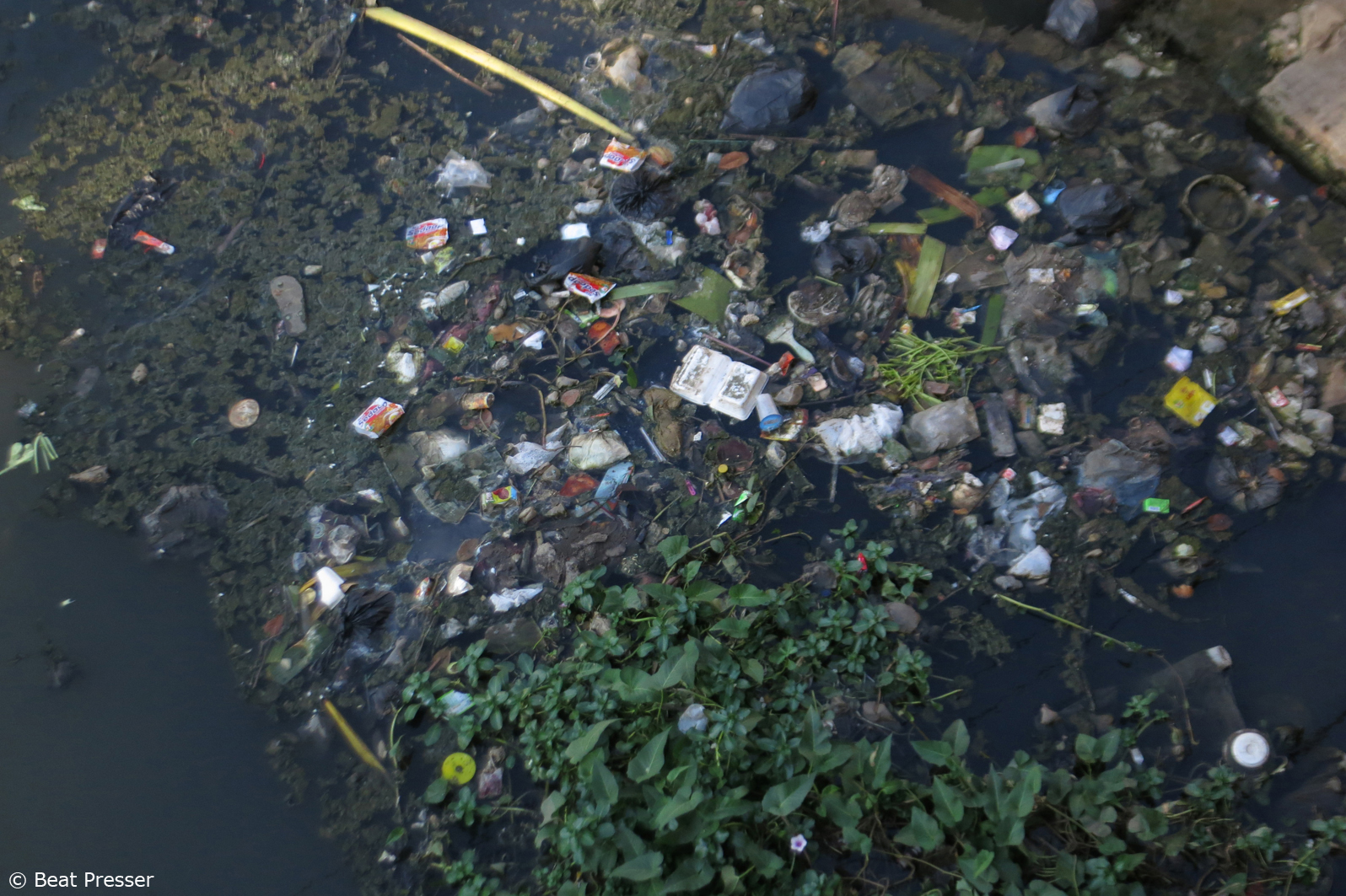 The plastification of the world is not only concerning oceans, far away islands and beaches.[8] Microplastic is also an embodied matter. It accumulates in organic tissue. Some additives plastics releases into the water (such as flame retardants or plasticizers like Bisphenol A) interfere with the human hormone system, causing endocrine disruption.[9] Many food standards agencies worldwide distributed warnings to eat oily seafish more than once a week. Plastic particles become an "edible matter"[10], that strongly demonstrates the – in this case: destructive – "power of food" with negative effects on health, gender, sexuality, mood and cognitive dispositions. Eating is becoming, as Jane Bennett names it, a tactic that highlights in a special way "the common materiality of all that is".[11] Humans included. This is followed by new questions on the conceptualizations of human-environment interfaces and relations; Questions of how local, situated or universal the human body is, and concepts such as "food as environmental exposure" (Landecker), "local biologies" (Lock) and "embeddied bodies" (Niewöhner).
George Kubler writes in "The Shape of time. Remarks on the History of Things": "The occurrence of things is governed by our changing attitudes towards the process of invention, repetition, and discard. Without invention there would be only stale routine. Without copying there would never be enough of any man-made thing, and without waste or discard too many things would outlast their usefulness."[12] But what if this everlasting cycle of invention, repetition and discard looses its validity and things could no more be discarded? And the "opposites decay and solidification allude" like in Pompeji, "where catastrophical destruction coincidences with its permanent conservation"[13]. The plastic is everywhere, and it is here to stay. It takes up to 500 years to degrade. Oceans are more and more turning into Wastelands. It seems there is something worse than a skeleton in the closet: A skeleton in the closet, that doesn't decompose.
Science and politics try to encounter this tragic pollution process with new technologies and new networks of knowledge. These knowledge, technologies, ideas and concepts are also traveling, floating and transforming – and building their own assemblages. They are organized along two basic principles. First: Avoiding plastic, because "cleaning up the plastic once it is in the oceans is impractical; only a portion of it floats, while most disappears, and presumably what does not wash ashore settles to the bottom".[14] This strategy could include the ban of plastic bags, which Bangladesh and California recently did, the development of biodegradable plastics and educational programs to avoid more litter. The second principle focuses on the clean-up, filtering, collecting and purification process. Like e.g. "The Ocean Cleanup"-Project of the Dutch teenager Boyan Slat, or the hope of companies like "Waste technologies" to turn this plastic into a global energy source and to produce millions of barrels of fuel out of it – again. Not only human actors adapt. There are also first signs of evidence of Polyethylene biodegradation by bacteria, plastic-eating Waxworms and mushrooms.[15]
From an ethnological perspective oceans have long been an influential place when it comes to thinking about the relationships between humans and things. On a global commons like "the" ocean social relationships, power relations, responsibilities, territorial appropriation practices and types of exchange systems become visible.[16] (Involving here: Microorganisms, rivers, oceans, entrepreneurs, bacteria, poisons, coast dwellers, toothpaste, politicians, environmental activists, plastic bags, scientists, fish, washing machine producers, sushi bars, architects, careers, biologists, container ships, captains, fisher men, outdoor clothing, hormones, laws, oil and many many more.)
The question will be: Is the plastic pollution of the oceans one more example of the tragic of the commons? Where "we draw back into the vitality of the present, into our aims and interests of the moment; we retreat, in short, into the selfishness that stands on the quiet shore and thence enjoys in safety the distant spectacle of wreckage and confusion."[17] The problem is however: In this case that we cannot just draw back, we are not distant from the spectacle. We are part of this biochemical-social system and political ecology, forced to deal with the "agentic assemblages" that we are also part of, that we created through poisoned "gifts", waste, abandoned objects. But our "gifts" are coming back. We no longer can take responsibility only for 12 seamiles wide coastal strips that are marked as national territory. Or to frame it in Michel Serres' words: "What do we want at all, when we pollute the world?"[18]
Methods and fieldwork
One of the key research aims is to track migrating knowledge and material through different scales and fields (bodies, things, localities/oceans, laboratories, political field…) Plastic itself will be considered a site, telling a scalar narrative. The project tries a "worlding" of plastic, where plastic as complex matter is mirrored in the complexity of orders. This involves the transformation of material and knowledge through various scales and questions of how and where material and knowledge translate into discourses and practices. This involves also fundamental questions on the complex relationship between the two entities "material" and "knowledge". The research is designed as a multi-sited ethnography in three different scales. It will focus on the question on how to deal with plastic as an uncanny remaining and therefore on utopias and ideas of purification.
---